Our planning powers
Metropolitan Redevelopment Authority Act 2011 gives us power to direct, oversee and enable land revitalisation within our five redevelopment areas: Central Perth, Armadale, Midland, Scarborough and Subiaco.
We assess development applications and create schemes, design guidelines, policies and frameworks to deliver on the redevelopment objectives and our vision for a revitalised Perth
Planning frameworks for our projects
Our planning framework is comprised of a series of planning tools and documents, which are customised for each redevelopment area to deliver on its unique vision and objectives.
We regularly invite public comment on planning items, including development applications and draft planning framework documents such as schemes, design guidelines and policies, to help our decision making. You can view current items open for comment and submit your feedback via the below link.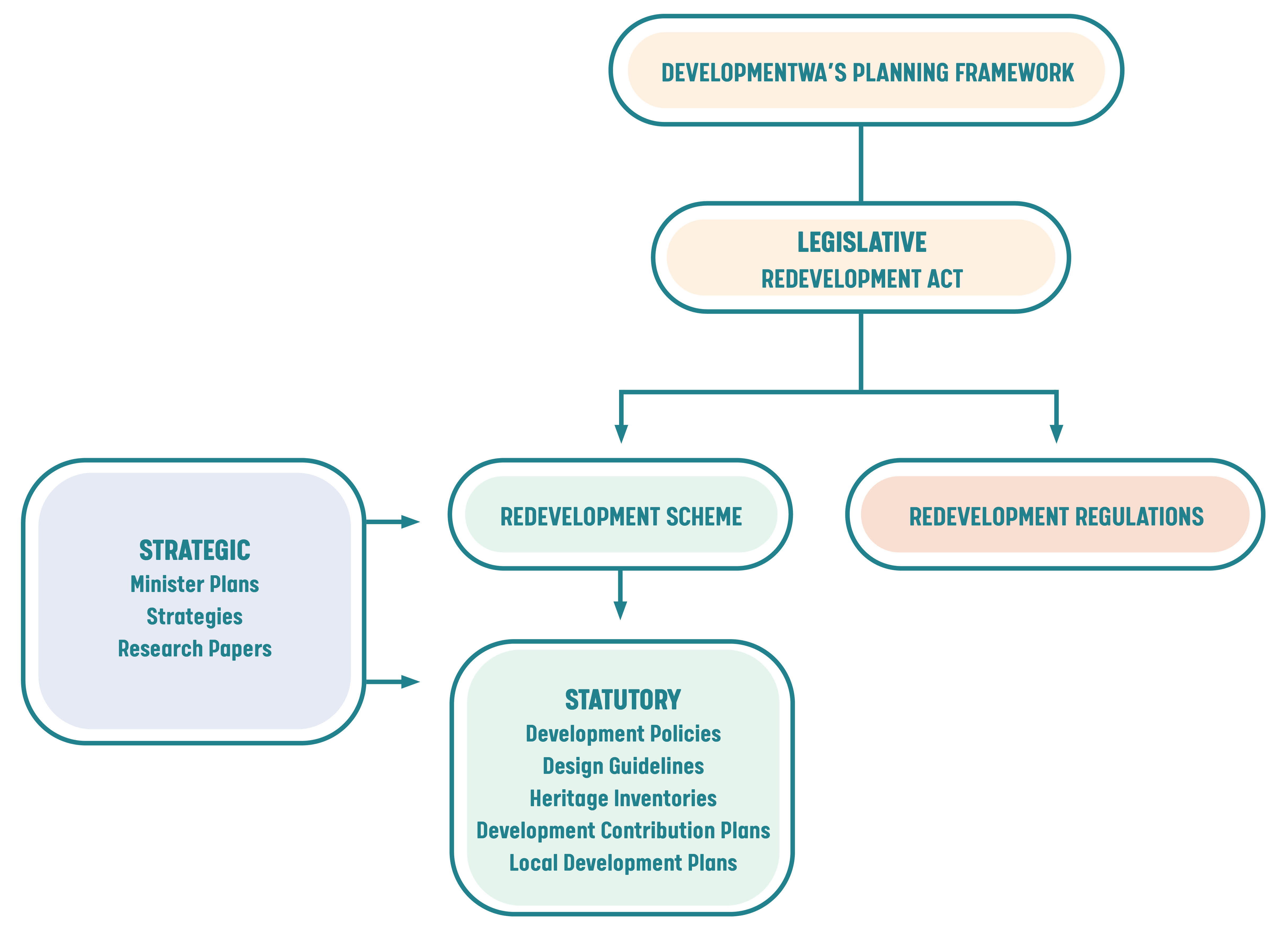 Do you need approval?
Planning approval is required for development within our project areas. 'Development' can be defined as anything from large-scale projects to housing additions, commercial signage and events.
The best way to determine if you require approval is to check the relevant framework documents for the area in which you wish to develop.
If you are still unsure please contact a member of our Planning Team.
Which documents do you need?
Along with the planning framework documents you will also need a range of forms and checklists to assist with your development application.
Our development application process
There are a series of steps involved in obtaining planning approval which can take up to 90 days for standard developments and 120 days for major projects.
Design Phase: A concept for the development is considered and the requirement for planning approval is determined by the applicant.
Pre-Lodgement Meeting: An optional meeting with our Planning Team to discuss the application and/or process.
Lodgement: The development application is compiled and submitted to our Planning Team along with the required fee.
Assessment: Our team assesses proposed development in line with the relevant planning framework and refers it to the relevant agencies. It could also be referred to independent consultants, design review panels or advertised for public comment.
Decide and Inform: Notification of the outcome for the development application is given.

Throughout the process our Planning Team will liaise with you where required. An additional Working Drawings process may be requested if necessary. Only once approval has been given can you apply for a Building License from your Local Government.
There's some answers to lots of frequently asked questions and a detailed step by step diagram on the development application process page.