Providing available strategic industrial land for downstream processing industries in the Pilbara, Western Australia.
The Burrup Strategic Industrial Area (Burrup SIA) is a well-established strategic industrial estate with vacant land for strategic industry in close proximity to gas, port and other key infrastructure in the Pilbara region. Further information on the Pilbara region can be obtained from the Pilbara Development Commission.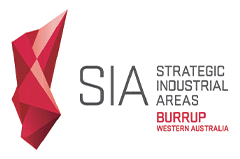 The Burrup SIA has been created to take advantage of the region's natural gas resources and other competitive advantages.
Industries currently located within the Burrup SIA include:
The Department of Jobs, Tourism, Science and Innovation (JTSI) is the lead agency for the development of the Burrup SIA and DevelopmentWA is the estate manager.
The process for land allocation in the Burrup SIA is set out in the Proponent Land Allocation Flowchart
Proponents interested in investing in the Burrup SIA will be required to submit a Proponent Project Proposal to the Department of Jobs, Tourism, Science and Innovation and DevelopmentWA.
Proponents should contact Doug at DevelopmentWA for more detailed information.
Doug Stirling
Development Manager, DevelopmentWA
T: 9482 7445
E: This email address is being protected from spambots. You need JavaScript enabled to view it.
1. Location    
The Burrup SIA is located on the Burrup Peninsula, approximately 10km from Dampier and 20km north-west of Karratha, one of Western Australia's major regional cities.
There are daily flights from Perth Airport to Karratha Airport (approximately 2 hour flight time).
2. Land Tenure
Land within the Burrup SIA is available for lease from DevelopmentWA.
DevelopmentWA also has a head lease over the East-West Service Corridor (EWSC). Land within the EWSC can be sub-leased to proponents.
The process for land allocation within the Burrup SIA is set out in the Proponent Land Allocation Flowchart
4. Sustainability
DevelopmentWA supports the development of sustainable strategic industrial areas through the encouragement of the co-location of industries with waste re-use and other synergies where possible.
5. Environment
Environmental details will be added to this page as they become available.
6. Services
Gas, power, potable water and desalinated water are located in close proximity to the Burrup SIA. The Servicing Plan shows the location of these existing services.
Discussions with major service providers are recommended to determine the capacity of existing services for a proponent's needs.
Future proponents will be required to comply with any BMIEA obligations relevant to the land as part of their lease.
9. European Heritage
There is no known European heritage within the Burrup SIA.