Providing land for the processing of the South West region's natural resouces.
The Kemerton Strategic Industrial Area (Kemerton SIA) has been selected by the Western Australian Government as a site for strategic and heavy industry in the South West region. To discover more about WA's South West region visit South West Development Commission.
PUBLIC NOTICE PERIOD NOW CLOSED
Kemerton General Industrial Area (GIA)
DevelopmentWA is proposing to develop a general industrial area in Wellesley WA in the south-east of the Kemerton Strategic Industrial Area (KSIA) that will provide complimentary services to the establishment and operation of heavy industries located within the KSIA core.
Areas of Lot 42 of Marriott Road reserve will also be cleared to improve intersection driver sight lines. The proposed action has been determined to be a 'controlled action' under the EPBC Act (EPBC 2021/8883). The Commonwealth Department of the Environment and Energy has advised that the proposed action is being assessed through preliminary documentation. The public comment period concluded on 17th November 2021 and the subsequent public notice period closed on 10 December 2021.
PUBLIC COMMENT PERIOD NOW CLOSED
Kemerton Strategic Industrial Area (SIA)
DevelopmentWA is seeking to develop the Kemerton Strategic Industrial Area (KSIA) for the purpose of industrial and infrastructure development as a strategic proposal. The Environmental Protection Authority (EPA) had a public comment period on whether or not the EPA should assess a proposal and, if so, what level of assessment is considered appropriate. The public comment period closed on 9th November 2021. To find out more Click here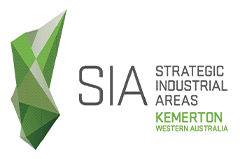 The Kemerton SIA is an important strategic industrial estate for the South West and links to the Bunbury Port by road, with land reserved for a future rail connection if required.
The following proponents already operate with the Kemerton SIA:
Albermarle Lithium - lithium hydroxide processing;
Kemerton Silica Sand – silica sand production;
Simcoa Operations - silicon production;
Cristal - titanium dioxide production;
Nufarm Coogee Pty Ltd - chlor-alkali production;
BOC Limited - oxygen and nitrogen production;
Transfield – gas fired peaking power plant;
Tesla – peaking power plant.
The Department of Jobs, Tourism, Science and Innovation (JTSI) is the lead agency for the development of Kemerton SIA and DevelopmentWA is the estate manager for the DevelopmentWA-owned land.
The process for land allocation in the heavy industrial core or buffer areas is set out in the Proponent Land Allocation Flowchart
Proponents interested in investing in DevelopmentWA-owned land at Kemerton SIA will be required to submit a Proponent Project Proposal to JTSI and DevelopmentWA.
Interested proponents should contact DevelopmentWA.
Tom Engelbrecht
Senior Development Manager, DevelopmentWA
T: +61 8 9482 7803
E: This email address is being protected from spambots. You need JavaScript enabled to view it.
1. Location    
The Kemerton SIA is located approximately 17km north-east of Bunbury and 160km south of Perth (1.5 hour drive).
2. Land Tenure
The Kemerton SIA has a total land area of 7,605ha. This includes a 2,025ha industrial core, 293ha support industry area and buffer of 5,437ha.
Land owned by DevelopmentWA will be leased to proponents when required.
3. Planning
Located within the Shire of Harvey, the Kemerton SIA industrial core is zoned 'Industrial' and the buffer is zoned 'Rural' under the Shire's District Planning Scheme No. 1 (DPS 1), with additional restrictions pursuant to Special Control Area No 2 within the Greater Bunbury Region Scheme, which is administered by the Department of Planning, Lands and Heritage.
The Kemerton Strategic Industrial Area Structure Plan was adopted on 24 May 2017 and sets the planning framework to guide the future development of the industrial area. The structure plan can be downloaded here.
The Structure Plan is supported by technical reports outlined in the respective headings below.
4. Sustainability
Industries are encouraged to co-locate within the Kemerton SIA to create synergies such as the re-use of products or by-products and the efficient use of land.
5. Environment
An overarching Kemerton SIA Environmental Management Plan has been prepared to provide information regarding environmental values of the development, as well as outlining a process and framework for future environmental approvals and management.
A Quantitative Risk Assessment has been undertaken to identify the overall risk presented by a proposed suite of conceptual industries likely to locate to the Kemerton Strategic Industrial Area.
An Overarching Water Management Strategy has been prepared to support the Structure Plan. It demonstrates the area is capable of supporting further development with respect to water related constraints. It also informs the water management detail required by each proponent at subdivision stage.
A Bushfire Management Plan has been created for the development. It provides a strategic Bushfire Hazard Level Assessment and an assessment of the bushfire protection criteria for Kemerton SIA.
To assist in developing the Structure Plan, air quality modelling for a suite of conceptual industries located within the industrial core of the development was undertaken. Air Quality Report modelling predicts zones of gaseous emission, particulate and odour impact.
An Environmental Noise Assessment was also undertaken to predict noise emissions from a typical mix of industries and determine the maximum noise level applicable to each lot within the development.
6. Services
Proponents requiring significant services may be required to provide those services on-site or extend services to their sites.
A Civil Servicing and Engineering Services Report has been prepared and summarises the provision of services within the development.
A number of key water sources are available for the Kemerton SIA and include Groundwater Abstraction (Potable and Process), Recycled water from Verve Pipeline (Process), Recycled water from Kemerton Wastewater Treatment Plant (Process), Integrated Water Supply Scheme (Potable), Wellington Dam (Potable and Process) and Recycled water from MIC Treatment Plant (Process).
Kemerton is adjacent to Western Power's Marriot Road Substation, Kemerton Terminal and a major 330kV transmission line. The site is traversed by a major 132kV transmission line, several three phase 22kV distribution lines and several single phase 22kV distribution lines.
The Dampier-to-Bunbury Natural Gas Pipeline (DBNGP) also traverses Kemerton SIA.
A rail freight corridor from Kemerton Strategic Industrial Area to the Bunbury Port has been identified and is outlined in the Siding and Spur Rail Design Report
The corridor will provide a long term compatibility between transport activities and land planning.
Telstra has a network building located at the Kemerton Wastewater Treatment Plant site in Marriot Road. This site is connected to the main network via optic fibre to the Bunbury-Mandurah link and the building contains transmission equipment capable of supporting a large volume and range of communications services. Optic fibre cables extend west from this site to service at least five customer sites in the Marriot Road area with wideband and/or data products.
7. Native Title
Land within the Kemerton SIA is generally not subject to Native Title.
9. European Heritage
There are no known European Heritage sites within the Kemerton SIA.