Bounded by East Parade, Summers Street, the Swan River and the Graham Farmer Freeway, the 8.5-hectare East Perth Power Station precinct has the potential to transform into a contemporary waterfront destination for the community to interact with this iconic piece of social history at the Swan River's edge.

Its enviable location complements the new Perth Stadium and Riverside projects that are transforming Perth's eastern precinct.

Planning for this multi-purpose site supports residential, employment, community and tourism growth.

Future development will deliver a pedestrian-friendly, precinct supported by well established connections to major arterial roads, rail and bus networks and cycle ways.
Background
In February 2015, the State Government called for Expressions of Interest (EOI) from developers with a shared vision for retaining, conserving and providing public access to this iconic heritage building.
While the EOI process focused on the 3-hectare site containing the power station building, Proponents were also able to register their interest in developing the surrounding lots to gain an understanding of the broader site's potential and assist with planning future redevelopment.
In September 2019, shortlisted Proponents were invited to participate in a Request For Detailed Proposal (RFDP) process. That process concluded and a Preferred Proponent announced in April 2020.
Preserving heritage
The East Perth Power Station, consisting of the power station buildings, plant and equipment is listed on the Heritage Council of Western Australia. Future development will celebrate the sites cultural heritage significance.
It will be informed by a Conservation Management Plan for the site, which provides a framework to ensure that the cultural heritage significance of the place is retained as part of any transformation.
Future development will celebrate the Aboriginal cultural and historic significance of the site and deliver public amenity and integration with the foreshore and Swan River.
Stabilisation Works
Following a series of forward works to ensure site safety, an extensive program of stabilisation works ran from November 2004 until March 2006. These works included the removal of asbestos roofs and replacement with new sheeting; demolition of ancillary structures and outbuildings; repair of concrete walls; repair and reglazing of windows; repair of steel structures; and painting of the exterior.
DevelopmentWA is responsible for management of the site to ensure its historical significance is maintained and coordinate ongoing maintenance of the buildings, landscaping and a regular security program.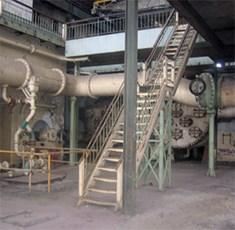 East Perth Power Station History
| | |
| --- | --- |
| 1913 | The State Government announces it will build a power station "to generate all the electricity needed in the Perth Metropolitan area." East Perth is chosen because coal can easily be delivered by rail and the enormous quantities of cooling water required by the condensing plant can be drawn from the Swan River. |
| 1913 | Construction commences. |
| 1916 | Construction completed at a total cost of £538,000. |
| 1916-1917 | Power generation commences when Unit #1 goes on line on 3 December 1916. Units #2 and #3 begin generating power in March and April 1917 for a total generating capacity of 12 megawatts. |
| 1922 | Unit #4, a 7.5-megawatt generator added. Demand for power begins to increase rapidly. More generation is required. |
| 1925 | Unit #5, of 12.5-megawatt capacity, begins generating power. |
| 1929 | Total power generation from East Perth Power Station is 32-megawatts. The estimated capital value of the power station is £1 million. |
| 1932 | The State Government announces it will privatise power generation and seeks purchasers for the East Perth Power Station from the private sector. The idea is abandoned later that year, due to lack of interest. |
| 1935-1938 | 'B' Station constructed around a massive new 25-megawatt turbo generator. 'B' Station almost doubled the capacity of the East Perth Power Station. |
| 1956 | A new 30-megawatt generating unit (Unit #7) commissioned. |
| 1968 | East Perth Power Station converts to oil (from coal). |
| 1974 | East Perth Power Station returns to coal firing. |
| 1981 | After 68 years of continual service, East Perth Power Station closed on 23 December 1981. More advanced and cheaper methods of electricity generation made the facility redundant. |
| 2003 | The State Government approves funding to save the heritage-listed buildings that comprise the East Perth Power Station complex. |
| 2004-2006 | Stabilising works undertaken. |
| 2015 | The State Government invites Expressions of Interest to develop the East Perth Power Station. |
| 2019 | The State Government announces funding to unlock the East Perth Power Station site for redevelopment and relocate the Western Power Switchyard. |