Landscape and Biodiversity
Our landscape design at OneOneFive Hamilton Hill takes into consideration the existing landform and ecology of the site, while also taking into account the future needs of residents.
As an Innovation Through Demonstration project, OneOneFive will showcase the important role of quality public spaces in creating communities of the future. Key design considerations include:
Tree Retention and Enhancement
A third of the existing mature trees on the former school site have been retained through careful planning. Around 350 new trees will be planted in public areas to create green corridors linking to existing trees and bushland, as well as new parks.
Biodiversity and Habitat Creation
The landscaping will feature retained local and exotic trees, with a diverse understorey of endemic plant species. This planting mix reflects the site's rich history, both Indigenous and European. Green corridors will provide habitat for native fauna, including iconic black cockatoos. New planted trees will double the size of the existing canopy cover over the site, providing protected and shaded areas for residents, as well as creating feeding, roosting and nesting sites for birds and other animals.
Connection to Place
We are working closely with local community groups to support their stewardship of the area and recognise the cultural links between the site's flora, fauna and the broader Hamilton Hill landscape context. The new landscaping will reflect a Whadjuk Noongar trail identified through the site.
Rehabilitating the natural bushland at the southern part of the site, which links to the Beeliar Regional Park, will create a flourishing greenlink for wildlife.
Indigenous and European cultural connections to the site will be reflected through public art, street names and parks to enrich the character of the overall development. The site's recent history as a school will be reflected in the geometric planning and the use of repurposed and recycled school building materials in the landscape.
Diverse and Useable Spaces
Quality public open space will form 17 per cent of the developed area – almost double the minimum requirement. The diverse range of public open spaces, such as kickabout areas, contemplative spaces, barbeque facilities and nature play, are thoughtfully located across the development and well connected by walking and cycling paths.
Next Steps
OneOneFive has a strong focus on sustainability, incorporated from early design and planning through to completion. The project has been awarded the maximum 6 leaves for the Urban Development Institute
of Australia's EnviroDevelopment framework, which is their highest level of sustainability certification. Achieving this rating required close attention to reducing the impact on the local ecosystem, sustainable use of materials, energy and water, careful waste management, and improving community wellbeing.
Water Sensitive Urban Design
OneOneFive Hamilton Hill will incorporate innovative urban water management strategies in response to reduced rainfall and warmer conditions experienced in southwest WA. Diversifying our water supply and reducing demand is important, and we need a balanced approach to water use that supports our green spaces, ecosystems, and overall community wellbeing.
As an Innovation Through Demonstration project, OneOneFive will test innovations in water-sensitive design and water use efficiency. Sustainable water initiatives include:
Water Sensitive Urban Design
Water Sensitive Urban Design (WSUD) features allow for the passive treatment and natural infiltration of stormwater via vegetated swales (rain gardens), permeable paving, and underground detention galleries. These WSUD features increase soil moisture, helping the growth of mature trees and new plantings, and reduce pressure on our local council's stormwater infrastructure.
Urban Greening
Good water management is important to support, maintain and improve biodiversity across the site as well as the connected ecosystems. Urban greening is a key part of the overall site philosophy to ensure improved liveability, amenity and biodiversity outcomes. The site is part of a broader system, and therefore water management will consider neighbouring areas and bushland. Appropriate vegetation will be maintained and enhanced to maximise shading and cooling effects.
Landscaping and Smart Irrigation
It is important to balance water conservation with the need for irrigation that supports healthy green spaces including active play and recreation areas. Landscapes will be 'hydrozoned' to ensure appropriate plants are selected and water is allocated in our public open spaces, streetscapes and private gardens. In addition, efficient smart metering systems will be installed to help detect leaks, measure soil moisture and consider weather forecasts.
Alternative Water Supply
Alternative water capture and storage systems, as well as a variety of water sources, will be included to support the long-term water needs of the
community. These fit-for–purpose options will have lower impacts on the environment and include:
Using rainwater for toilets and washing machines,
Greywater-ready plumbing for larger lots,
Groundwater for watering public and private spaces, with sustainable recharge of the aquifer,
Onsite stormwater management and infiltration for cooling the urban environment and providing
additional water for trees and plants.
Household Scale
Water savings will be established at the household level though good planning and design guidelines, including:
Medium density development with smaller lots to reduce garden water use and a range of
high-quality, attractive and useful shared green spaces to provide connection with nature,
Design Guidelines that target water-efficient fixtures and fittings such as taps, showerheads,
toilets and appliances,
Incentives to support the uptake of efficiency measures and alternative water systems,
Community programs to support and encourage waterwise behaviour.
Research and Partnerships
OneOneFive provides a unique opportunity to investigate, document and communicate how integrated water management approaches can become mainstream practice in Perth's urban development industry. This work will be captured through the HSHS Waterwise Development Exemplar program, which is supported by DevelopmentWA and Water Corporation, along with key stakeholders City of Cockburn and Department of Water and Environment. The program will trial leading innovative water management
practices and the learnings will inform future stages of sub-division and other developments.
The development has been certified as a Water Corporation Waterwise Development, with additional research partnerships explored to test new ideas.
Reflecting Community and Place
We are transforming the former Hamilton Senior High School (HSHS) site in Perth's southern corridor into an exciting new residential community:
OneOneFive Hamilton Hill.
As an Innovation Through Demonstration project, OneOneFive aims to reflect community aspirations for the site while balancing the needs of future generations, by providing a diverse mix of modern housing options within a well-designed neighbourhood.
Key considerations include:
Affordable Housing
We are aiming to create a thriving new residential community that integrates with the surrounding area and supports the City of Cockburn's Revitalisation Strategy. The development will provide about 232 lots and deliver around 310 diverse, climate-responsive homes, with opportunities for affordable living.
Understanding Community Expectations
We worked with the local community in planning and have incorporated their feedback into key areas such as retaining trees and bushland, the importance of sustainability, respect for the site's Aboriginal heritage, and acknowledgement of the former school's history and stories. We will support local community groups to continue the excellent conservation work they undertake.
Collaborative Approach
We are working with the City of Cockburn, the local community and other groups in developing strong and seamless connections to the surrounding area. The range of adjacent infrastructure and activities will support the delivery of a quality infill development to help meet the needs of Perth's growing population.
Cultural Recognition
The design will reflect and incorporate the site's history as an important local high school with the use of recycled school building materials and the retention of a school quadrangle. An art installation reflecting the site's Aboriginal heritage and educational history will enhance the character of the development. The planning also acknowledges an identified Whadjuk Noongar trail across the site. Naming of streets and parks will also reflect the site's Aboriginal and European heritage and culture.
Quality Greenspace
The future development will feature a strong commitment to urban greening by retaining existing vegetation, supporting conservation work in adjacent bushland, and adding new quality parklands and public spaces. Our design seeks to create a comfortable microclimate, which tackles urban heat and enhances the existing tree canopy and vegetation. Green corridors and public accessways will provide important links to a series of neighbourhood parks through the development, creating a connected and walkable community
Next Steps
OneOneFive is a new chapter in smart and sustainable living with a distinctly local appeal that creates a new place for people to live, while respecting the past. We look forward to continuing to work with the local community and key stakeholders to deliver the vision for the project as it progresses.
Resource Recovery
OneOneFive Hamilton Hill is a great example of looking positively at 'waste' as a resource and an
opportunity for responsible and innovative recovery and reuse of materials.
As an Innovation Through Demonstration project, this new development champions innovative approaches to waste management and sustainable development.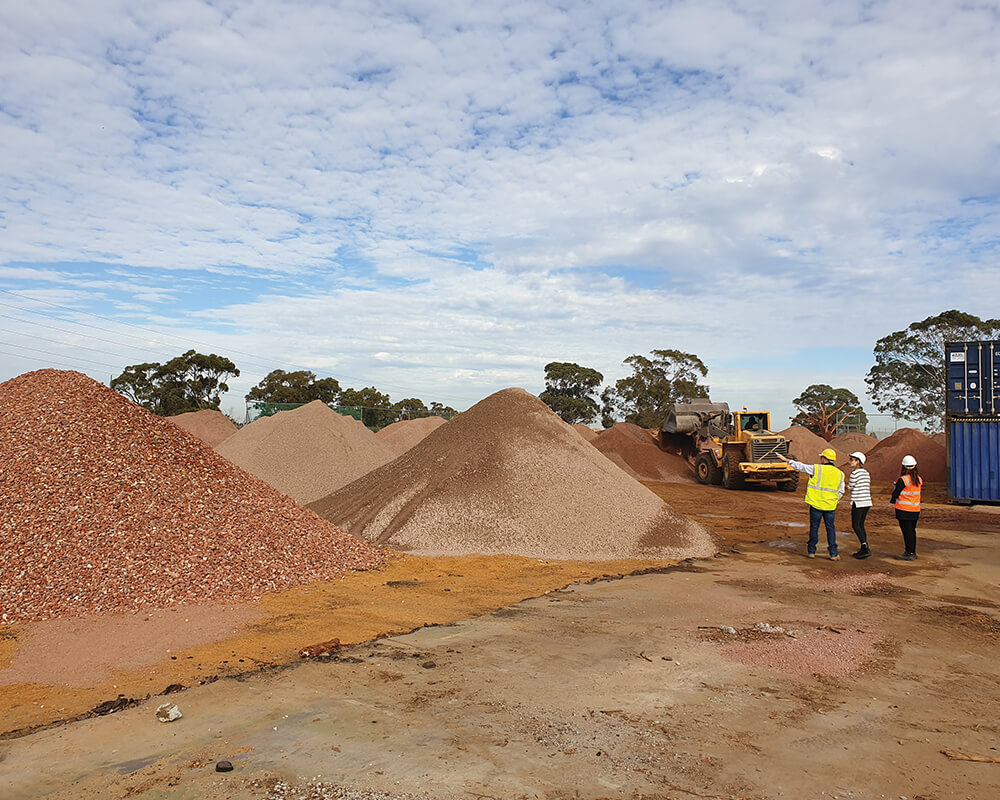 Goal
Our waste-to-resource goal at OneOneFive is simple: process and reuse all demolition materials onsite. The only exceptions will be materials that are hazardous, which will be safely disposed of, and those that can be better used elsewhere, such as in furniture making or recycling of high value metals.
Outcomes
The demolition process recovered a range of resources including concrete and masonry, which has been crushed onsite for reuse, timber, metals and some mulched vegetation. There was also some general waste, which was removed and recycled through the municipal system.
Total material recovered: 10,625 tonnes
Total reuse and recycling (by weight): 95%
Total material reused onsite: 85%
Total material recycled offsite: 10%
Hazardous and contaminated waste disposed of safely: 5%
A pre-demolition survey identified items to be stored for direct reuse and materials to be removed for high-value reuse or recycling elsewhere, mostly metals. Approximately 623 tonnes of hazardous materials were removed by licenced contractors to prepare the site for demolition. The bulk of the remaining material was concrete, tiles and masonry that was crushed and stockpiled for reuse onsite.
Benefits
The resource recovery process is showing strong environmental, financial and community benefits, which will flow onto other projects that follow the demonstrated pathway. So far, we achieved:
1,000 fewer truck movements
The crushing operation meant that fuel use onsite increased, but this was offset by the reduced transport requirements. Truck movements have been avoided through not having to take material to offsite processors or landfill, and through removing the need to import materials for road
base and other works.


9,000 litres of diesel saved
There were carbon emission reductions in transport, onsite in the replacement of raw materials with recovered demolition products, and offsite emissions reductions through recycling.


663 tonnes CO2 avoided
Increased onsite costs were offset by reduced transport and landfill levy costs.


Net financial saving of approximately $100,000
Research and Partnerships
The innovative approach to waste management has been possible through developing partnerships with local demolition and waste management providers. This approach will be analysed and reported on through collaboration with universities.