Award-winning homes: The Gen Y demonstration homes won two awards at the 2017 Australian Institute of Architects WA Awards; Residential Architecture – Multiple Housing Award and the Sustainable Architecture Award.
The project
WGV at White Gum Valley is home to the Gen Y Demonstration Housing project, a practical demonstration of sustainable, flexible and cost effective dwellings to suit 21st Century living.
As a new housing model, the project provides a practical demonstration that can easily be replicated to provide an affordable living environment for Gen Y'ers and future generations to come.
The three apartments respond to the problem of the 'missing middle' of medium density housing, whereby housing stock in Australia (and internationally) is increasingly either low density single family homes or higher density apartments, with little choice in between.
This model also provides an excellent demonstration of a housing solution that bridges the gap between the single house and large apartment block, providing stealth density in medium density areas that integrates well with the streetscape.
The vision
Create a unique and innovative dwelling design that will contribute to the eclectic character of the White Gum Valley neighbourhood and enhance the sense of place while providing a 21st Century living environment for the next generation of home owners'.
The brief
In October 2013 we undertook a design competition in association with the City of Fremantle, the Institute of Architects and the Office of the Government Architect to explore innovative ideas and concept designs suited to the needs of the next generation of home buyers.
Following a rigorous assessment process, the concept for a flexible housing solution, designed by David Barr Architect, consisting of three separate one bedroom, one bathroom apartments with private outdoor living space, was identified by the selection panel as an outstanding and worthy winner.
Design and liveability
As a hybrid of apartment building and freestanding house, the Gen Y Demonstration Housing Project offers a new model for multi-residential infill housing – micro-apartment buildings that blend harmoniously with their surrounding suburban context and are small enough to be located on standard sized residential blocks.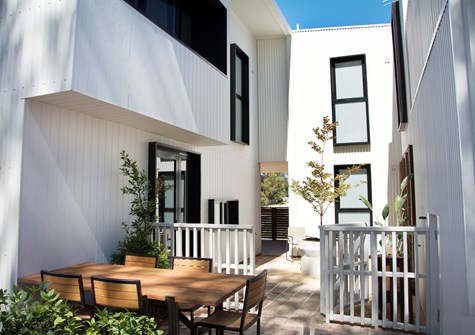 The Gen Y Demonstration Housing Project features three, single bedroom apartments within a compact two-storey footprint on a 250 square metre block. This compares with an average Australian house size of 241 square metres. It is in this efficient use of the suburban block that the potential for increased density can be found.
This increased density is not at the expense of liveability for inhabitants or neighbours - each apartment has private and communal external areas, clever storage, generous ceiling heights, and a high thermal efficiency.
Whilst small, with only a single bedroom each, the apartments reflect changing Australian demographics and a future in which single person households make up the fastest growing household type.
Sustainability initiatives
The 'Gen Y' Demonstration Housing project:
has been accredited with a 'gold medal' level life cycle analysis by Etool
assisted in meeting some of the principles of the 'One Planet Living' sustainability framework
has been designed to meet the essential requirements of the 'Liveable Homes' accessibility standards.
A key aspect of the project is the climate responsive layout which integrates solar passive design principles to ensure natural light and cross ventilation to each apartment and the use of sustainable materials like 'green' concrete using low carbon furnace slag which provides thermal mass.
The ownership structure provides a built strata for the three apartments constructed with light framed timber framing to all walls with a suspended floor and pre-finished refrigerant roof panels. The larger than normal wall studs permit excellent thermal insulation and an air gap.
Robust, prefinished and durable materials including Colorbond steel and fibre cement claddings line the external perimeter of the building, minimising ongoing maintenance requirements.
The apartments have also been designed to include a 9kW Photo Voltaic system with battery storage, a 10,000L underground rainwater harvesting tank and performance monitoring for all key services
Landscape design incorporates recycled materials and waterwise planting with shared recycled brick planters for herbs and edible plants.
Accessibility
Accessibility features are incorporated into the structural design, including wider doors and reduced thresholds, as well as allowances for the future installation of optional accessibility aids.
The Gen Y Demonstration Housing Project is the subject of a four year research project by the Cooperative Research Centre for Low Carbon Living and Curtin University, to monitor and assess how energy efficient design, technology performance and occupant behaviour impact energy use...