Proud History, Exciting Future
An exciting urban renewal program has been underway in Midland since 2000, transforming the city centre and revitalising the gateway to the Swan Valley and Perth Hills.
Our vision for Midland is to create a thriving city that attracts businesses, residents and tourists to Perth's eastern corridor.
Midland is an important retail and commercial hub and a strategic metropolitan centre identified by the State Government to redevelop. We are transforming the city centre, revitalising the gateway to nearby tourist regions and delivering economic, social and environmental benefits.
New high-quality transit links
World class health and education hub
Almost $1billion worth of investment from Government and private sector
A range of shopping options
Creation of 7,500 jobs
Diverse housing options
A wide range of housing options are being delivered to accommodate Midland's rapidly growing and diversifying city-centre population.
Woodbridge Lakes and other medium-density neighbourhoods provide convenience and luxury in beautiful natural surroundings. Apartments and other high-density dwellings interspersed amongst parks, shops, cafes and transit provide an inner city lifestyle. There are also affordable housing options to support a diverse population.
The Workshops
Throughout the 20th century, the iconic Midland Railway Workshops were a dominant economic force and the centre of work and community life in Midland. We are working to conserve and repurpose The Workshops so they can again be a driver of the local economy and community.
The Midland Workshops are a cluster of late 19th century buildings undergoing thoughtful restoration to provide an urban village for a new era. Retaining its authentic, industrial feel, the new Workshops urban village will be home to a range of residential, commercial, health, education, entertainment and creative industry uses. New developments in the precinct include Victoria Quarter which features 70 apartments on upper levels and cafes, shops and offices on the ground floor.
Railway Square will be at the heart of The Workshops development. The site celebrates its history through a peace memorial and heritage interpretation, while the large public square will provide space for recreation, meetings and events for generations to come.
Midland Workshops Heritage Open Day 2014 (The Powerhouse)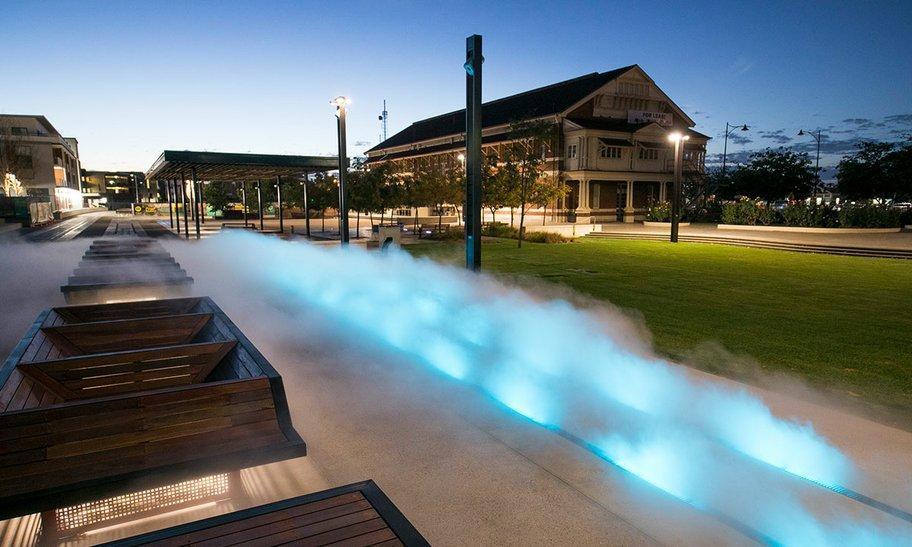 The Water Line at Railway Square, representing the movement of the old locomotive trains that once moved through the space.
Health precinct
Our Midland redevelopment project is bringing a number of new health services to the area.
The family owned and operated GP Super Clinic provides a range of bulk billing services, as well as onsite pharmacy, physiotherapy and Aboriginal health services. Next door, major cancer care provider Icon has the capacity to provide treatments to thousands of patients each year.
The Midland Public and Private Hospital opened in 2015 and delivers health care to both private and public patients, including new services such as cancer, intensive and high dependency care to Perth's eastern suburbs for the first time.
Nearby, Perth's only bone and tissue bank, PlusLife, opened in 2018 and in 2019 The Stan and Jean Perron Child Advocacy Centre opened its doors.
The Curtin University Midland campus accomodates medical nursing, physiotherapy, pharmacy, engineering and business students.
Large format shopping centre
Located south of the rail line on the eastern edge of The Workshops precinct, the Clayton commercial precinct maintains a strong link with Midland's retail heart.
Given its convenient location, the Clayton precinct is undergoing redevelopment for medium to high intensity employment focused use, including a large-format shopping centre, light industrial and retail outlets. Nearby, the 14-hectare former Midland Livestock Saleyards is being redeveloped into a retail precinct featuring Western Australia's largest Bunnings.
Midland City Centre
A mix of inner-city apartments, offices, green spaces, and cultural life have brought Midland's heart back to the city centre. With easy access to public transport, the contemporary mixed-use buildings bring together old and new to create a vibrant place to live, work and play.
Significant investment was made in the early stages of the project to improve the streetscape amenity, focusing on place-creating public art and high quality landscaping. The town centre now has a cosmopolitan feel, with shops, offices, cafes, restaurants and entertainment venues around Juniper Gardens.
Alongside the Gardens, The Crescent was redeveloped as a wide, shady boulevard, lined with three to four storey mixed-use developments with retail and entertainment businesses at ground level and apartments above.
Apartment living in Midland city centre
Public spaces including the award-winning Juniper Gardens