About Carnarvon
A coastal town situated 890kms north of Perth, Carnarvon is part of Western Australia's popular Coral Coast tourism area. It lies at the mouth of the Gascoyne River on the Indian Ocean and the nearby world heritage listed Shark Bay region lies to the south of the town and Ningaloo Reef to the north.
Long standing industries in tourism, fishing, mining, agriculture and horticulture keep the local economy strong. Due to climatic advantages in the region, growers are able to meet out of season demand in national and overseas markets providing a range of fresh produce year round, particularly bananas, tomatoes, grapefruit, mangoes and grapes.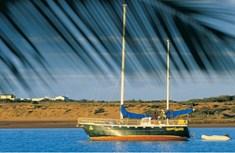 A modern residential development, NorthWater Estate is in the seaside town of Carnarvon on Western Australia's Coral Coast 904km north of Perth.
The estate has transformed the Carnarvon foreshore, providing new living and lifestyle options with public parklands and boardwalk areas within walking distance of the town centre.
Cornish Street is a new light industrial estate in Carnarvon that offers lots close to the North West Highway and Carnarvon airport.
Situated mid-way between Perth and the Pilbara, Cornish Street Light Industrial is an ideal staging and access point to northern WA.