Old meets new in revitalised Subiaco
Our Subi Centro redevelopment has been recognised around the world as one of Australia's best urban renewal projects.
Now 86% complete, the redevelopment has breathed new life into Subiaco, building on the area's existing urban fabric and rich history to create a new, cosmopolitan way of living.
Subi Centro covers an 80 hectare area within Subiaco, featuring a mix of parklands, tree-lined streets, townhouses and commercial precincts, surrounded by heritage-listed homes and historic architecture.
Creating a connected community
Subiaco was established as a largely industrial suburb in the mid-1800s and was split when the Perth to Fremantle railway line was built. As Perth grew throughout the 1980s, the greater Subiaco area suffered because of difficult access across the railway. The neighbouring suburbs of Daglish and Jolimont were isolated from the town centre and the retail strip along Rokeby Road. Without an overall vision, the area was beginning to stagnate.
In 1994, the Subiaco Redevelopment Authority was formed and became a major benefactor of the Federal Government's Building Better Cities program. This launched the revitalisation of Subiaco, beginning with reconnecting the surrounding suburbs by sinking the Subiaco train station. This created space for a new community with new highly sought-after homes and launched Perth's first underground train station.
An opportunity for innovation
Subi Centro was the first redevelopment project of its kind in WA.
In 1998, the project delivered Perth's first underground railway, using an innovative 'cut and cover' technique for construction of the rail tunnel. This tunnel created new connections to the surrounding suburbs and created a new corridor of land above which would facilitate the development of Subi Centro.
Our focus on sustainability
Protecting the environment has been central to planning and design in Subi Centro. The project has involved the remediation of contaminated soils and groundwater, with careful management of resources, transport and drainage issues.
At a local level, we promote energy efficiency in the design of Subi Centro's buildings, landscape and public spaces. This includes solar passive design in homes, offices and open spaces, and water-saving initiatives including rainwater harvesting and a geothermal exchange bore system as part of the Australian Fine China (AFC) development.
Solar design
A key element of energy efficient design in Subi Centro is the solar orientation of each building.
Saving water
Rainwater and groundwater are carefully managed with a range of water-sensitive initiatives.
Sustainable living
The AFC geothermal energy system is expected to use 50% less energy than conventional systems.
A celebration of history
We have worked to conserve Subiaco's heritage through a range of initiatives, including historical street names and design strategies.
Public artworks include pieces which reflect the cultural heritage and industrial history of the area, particularly the old Australian Fine China (AFC) factory. The AFC site was used to manufacture china and porcelain between 1921 and 2006. When the historic factory closed, it created a unique opportunity for us to connect and enhance the valuable links to the past that were already a key element in our Subi Centro project.
New life with new investment
The government investment of $200m has so far generated more than $1b of private sector investment from a range of investors including Pindan, QUBE and Finbar. This combined investment has created new infrastructure, homes, business opportunities, public spaces and new jobs for 6,800 workers.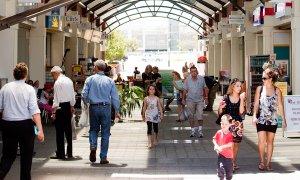 Retail
Subiaco Square features a range of retailers including Woolworths.
Residential
The new townhouse lots in Subi Centro created land sale records at auction, giving rise to a total of 1,975 new homes.
Commercial
Roberts Road has become a busy retail and commercial space which includes shops, cafes and design firms.