Innovation Through Demonstration
We believe in leading by doing.
Our Innovation through Demonstration projects champion sustainable land and infrastructure development practices and cutting-edge technologies.
Green, sustainable, smart communities
We are leading the way by developing Australia's first 6-Star Green Star community at Alkimos Beach, delivering Western Australia's first One Planet Living residential project at White Gum Valley, advancing energy efficient technologies through the Cool Earth Demonstration Project and meeting the challenges of building homes which respond to our regional climates.

We understand Western Australia's unique environment and the pressures that are placed on our natural resources as our population continues to grow. The challenge is to create new, smarter ways to live, to save water and energy and reduce the pressure on our natural environment.

For developers, this means creating sustainable communities that balance resource efficient design and quality of life for residents. By investing in and demonstrating new technologies, we take on the potential risks of these technologies so industry can confidently implement sustainable practices.

We are proud to push the boundaries of change as we help build a more sustainable tomorrow for all Western Australians to share.


By continually maintaining our 6-Star Green Star certification, we are developing a sustainable community so that you, your children and their children can enjoy a great lifestyle now and in the future.
OneOneFive has the potential to impact future policy and industry frameworks and set a high standard for residential infill.
As a demonstration project, East Village will be a living laboratory, delivering valuable lessons from real-life initiatives to support a more sustainable way of living.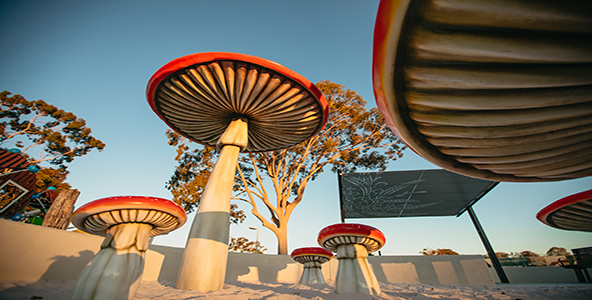 Work has started on the rehabilitation of the bushland along the western portion of Montario Quarter. This work includes removal of a disused road and underground hospital storage units.
Ocean Reef Marina will provide recreational, tourism, residential and boating facilities for local residents and visitors alike.
The Cool Earth Project explores alternative options for heating and cooling our homes in Perth's unique environment.
Peel Business Park will provide unlimited potential to forward-thinking investors and developers who want to get in on the ground floor of the region's development.
Horizon Power and DevelopmentWA have joined forces to deliver Smart Sun – a solar-powered microgrid package providing renewable energy to eligible homes in DevelopmentWA's Waranyjarri Estate in Broome North.
The Subi East project will see the rejuvenation of 35ha of land to create a vibrant new north-eastern gateway to Subiaco – one that respects and celebrates the rich heritage of the area, while realising the importance of its prominent location on the doorstep of the Perth CBD.
Welcome to a smarter way of living. WGV at White Gum Valley is a modern, innovative sustainable residential development which will change the way we live.