Australia's first replicable, higher-density baugruppe housing development will be delivered at WGV at White Gum Valley thanks to a collaboration with the University of Western Australia.
The Baugruppe process, from the German word meaning "building groups", allows homebuyers to collectively finance, purchase and construct a multi-unit housing development that is custom-designed to their individual needs.
As many as one in 10 new homes is developed in Germany using this process, which has consistently delivered well-designed, high-quality, adaptable and sustainable housing.
We sought registrations of interest from homebuyers to participate in the Baugruppe Demonstration Project at WGV, and an initial group of building group members has been confirmed.
The successful registrants will now come together to become their own developer and co-operate through the period of project planning and delivery. After construction, the units will be converted to individual ownership, as in a conventional development.
The Baugruppe Demonstration Project will be constructed on a 2,079sqm lot at WGV, with work expected to begin in mid 2019.
In Western Australia, the baugruppe process has the potential to deliver multi-unit housing that is more affordable, more diverse, more sustainable and supports the establishment of community.
University of Western Australia Professor of Architecture Geoffrey London has played a lead role in exploring and introducing the baugruppen process to the WA market, together with the State Government, local authorities, industry and universities.
As the State Government's land development agency, we have been pleased to play our part by providing the site for the Baugruppe Project at WGV – WA's first One Planet Community, which has set new benchmarks in affordable, community-focused, sustainable living.
Working with the University of Western Australia, we will document the process as the Baugruppe Demonstration Project develops, to provide a guide for other groups.
Award-winning Fremantle architect Michael Patroni, of spaceagency, has developed a concept plan for the Baugruppe Demonstration Project at WGV featuring "stacked homes" with no common walls. Single-storey modules accommodate one bedroom, one bedroom plus study, or two-bedroom homes, and double storey modules accommodate three or four-bedroom homes.
A limited number of opportunities remain for homebuyers to take part in the Baugruppe Demonstration Project at WGV.
If you are interested in becoming a building group member, please contact Cindy Loffell on 0412 120 050 or This email address is being protected from spambots. You need JavaScript enabled to view it.
To learn more about the WGV estate where the Baugruppe building project will be based, please visit www.developmentwa.com.au/wgv
Artist impression of Baugruppe at WGV courtyard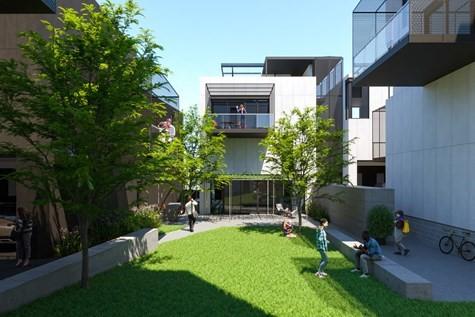 Artist's impression of the exterior of the Baugruppe at WGV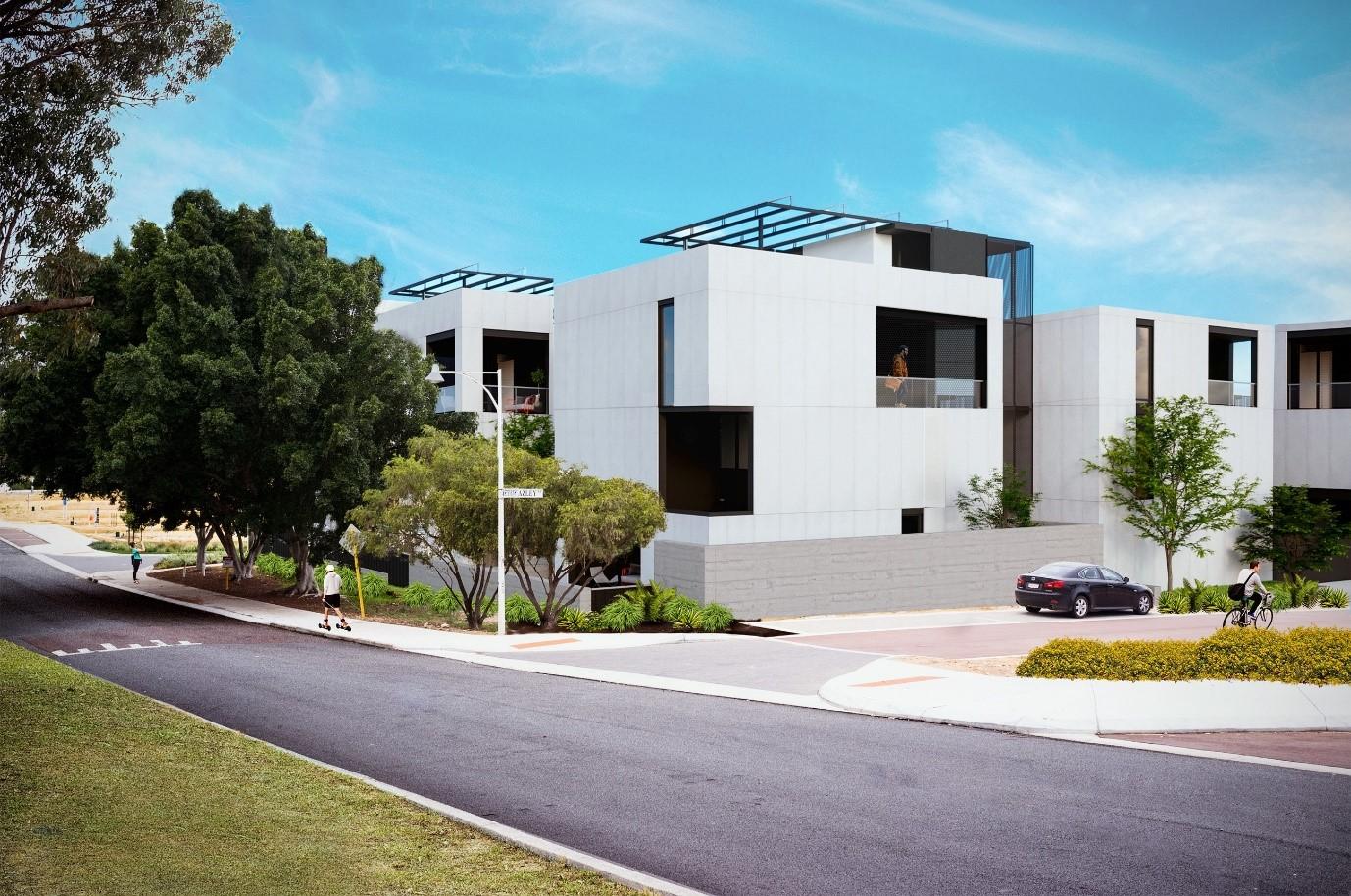 Artist's impression of the interior of a Baugruppe at WGV apartment
Artist's impression of a one bedroom apartment